Guild House (Updates)
Beste STA-ers,
Laten we deze topic gebruiken voor aanpassingen/toevoegingen aan de Guild House. Stronghold items kan je doneren aan de Guild Bank. Ben je een "Free 2 Play" speler, trade jouw items aan een "subscriber" player, zodat hij/zij ze aan de Guild Bank kan doneren.
Iedereen heeft een sleutel als het goed is, dus iedereen kan decoreren 🙂
Eerste update...
De Guild House heeft vanaf nu:
Galactic Trade Network Kiosk
Item Modication Station
Appearence Modification Station
Cargo Bay
Legacy Stronghold Storage
Guild Bank
Mailboxen
Je kan vanaf nu je zaakjes ook in de Guild House doen ipv de Fleet. Alles staat bij elkaar in 1 kamer, gebruiksvriendelijk dus 🙂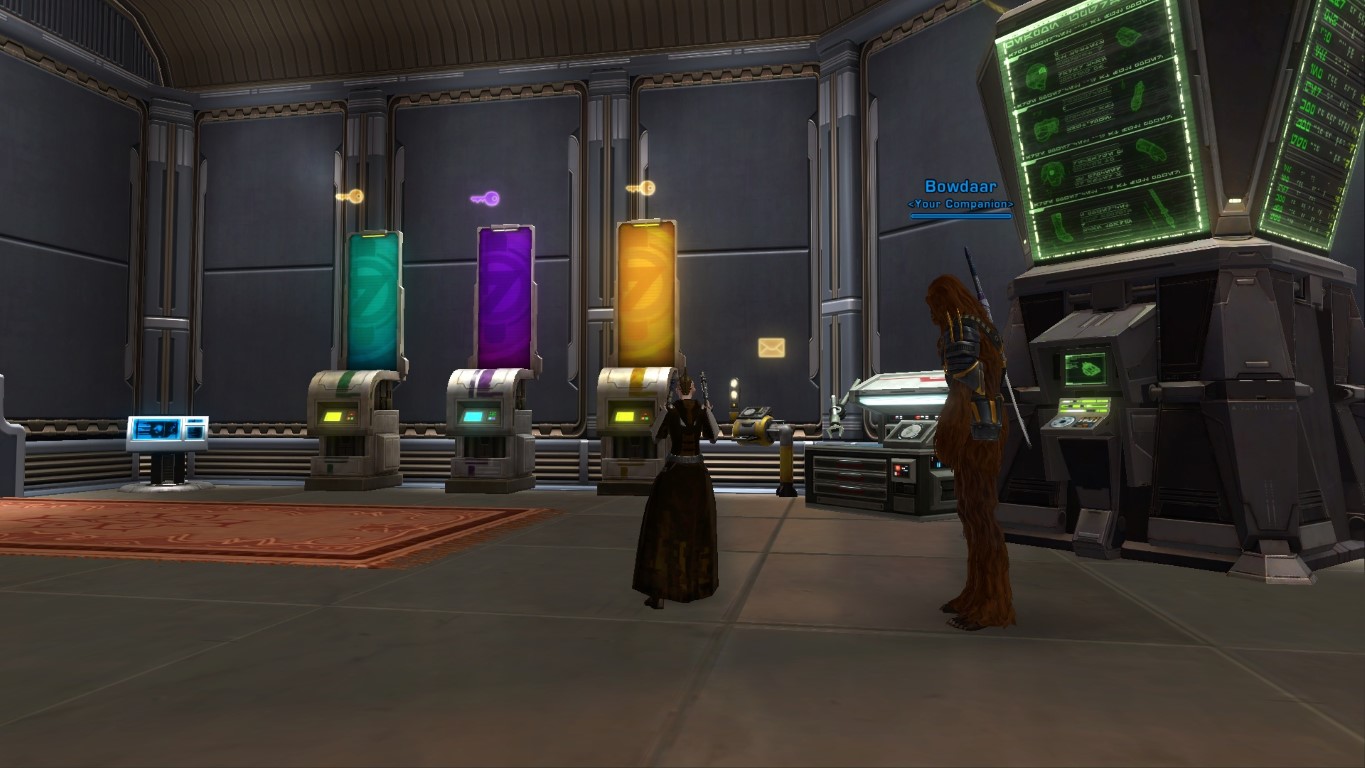 Posted : 31/07/2015 1:19 pm
Guild House heeft natuurlijk meer kamers en verdiepingen, die worden betaald vanuit de Guild Bank, dus als je credits over hebt zo af en toe, doneer aan de guild 🙂
Posted : 31/07/2015 2:50 pm
Posted : 01/08/2015 5:39 pm
Ben gisterenavond even begonnen met Enitram - female Jedi Knight.
Posted : 05/08/2015 3:44 pm
Weer wat Warzone Commendations uitgegeven:
Posted : 06/08/2015 10:15 pm
Jeetje hoe kom je aan al die dingen?
Posted : 06/08/2015 10:43 pm
Die Huttball, Republic soldiers/banners etc via Warzone Commendations, die je krijgt door Warzones te spelen. Op de fleet staat een pvp/starfighter pvp vendor waar je ze kan inwisselen.
Aangezien ik toch nog geen level 60 ben, hoef ik nog geen pvp armor te kopen van die commendations. Er zijn nog een aantal items die ik ga halen, moet alleen ff kijken of ik kan smokkelen via mijn dark side characters (kijken of ik het kan mailen naar light side).
Die datacrons kan je looten op de planets waar je quest, heb er veel op Taris geloot, maar ook op Nar Shaddaa en Tatooine
Posted : 07/08/2015 12:51 am
Posted : 07/08/2015 12:54 am
Mijn Dark Side had ook nog wat warzone commendations, en ik kon de items mailen 🙂
Dus:
Posted : 07/08/2015 11:45 am