Datum: 09/12/2020
Tijd: 21:00
Omschrijving:
"Regardless of race, faction or diety, every soul on Norrath has heard the name Varsoon. To some this merely denotes the dungeon, full of adventure and thrill to be had, but to others versed in history, the name denotes nothing but fear. "
Vanavond gaan we een bezoekje brengen aan de public dungeon – Ruins of Varsoon
NPC Quests
Starts at: Jiana Waterway in The Thundering Steppes at ( -649, -8, 685 ) Copy
Keeping the Topside Safe

This quest has three versions, a level 28, a level 32 and a level 34. Each version must be completed ten times to reach the next version. Upon completing the final iteration of the third version, the master quest becomes unlocked:
Examined Quests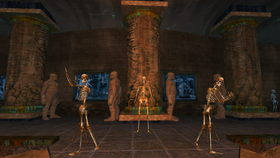 Last Place They'd Look – examine a book on the floor at either (

-273, 0, -28

) or (

-301, 0, -34

)
Ash Covered Necklace – examine the ash covered necklace received in the previous quest.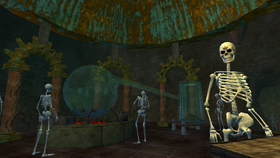 Book Quests
Other Quests
These quests involve The Ruins of Varsoon, but are not necessarily part of the timeline:
Deelnemers: