Het grote F1 2020 Solar Trade Alliance Xbox & PDP controller Kalibratie Topic
Hoe frustrerend kan het zijn dat met een controller in F1 2020 dat niet door de bochten vloeiend en dus zonder horten en stoten (lees: het continue bijsturen en voorkomen dat de bolide doorschiet!) gescheurd kan worden!?
Welnu.. hier de kalibratie topic!
Lineariteit (linearity) is het antwoord!
Uiteraard kan er worden gespeeld met de hoeveelheid lineariteit, bijvoorbeeld 30 of 40.
Vooral bij het stuurgedrag is een hogere lineariteit voor de Xbox en PDP controller zeer positief van invloed.
Er is een stuk minder bijsturing nodig en veel minder uitschieters.
De saturatie bij sturen kan ook in kleine stappen worden opgeschroefd om de gevoeligheid van het (in)sturen te vermeerderen, oftewel de linkerduimpook op de controller reageert eerder/sneller.
Posted : 03/10/2020 6:14 pm
Het is gewoon ff het beste om in de timetrial modus te gaan rijden, je kan gewoon tijdens de timetrial je settings continu aanpassen om te zien/voelen of je verhoging of verlaging werkt voor jou. Ik denk sowieso dat het voor iedereen anders is wat jij als prettig ervaart
Posted : 04/10/2020 4:34 pm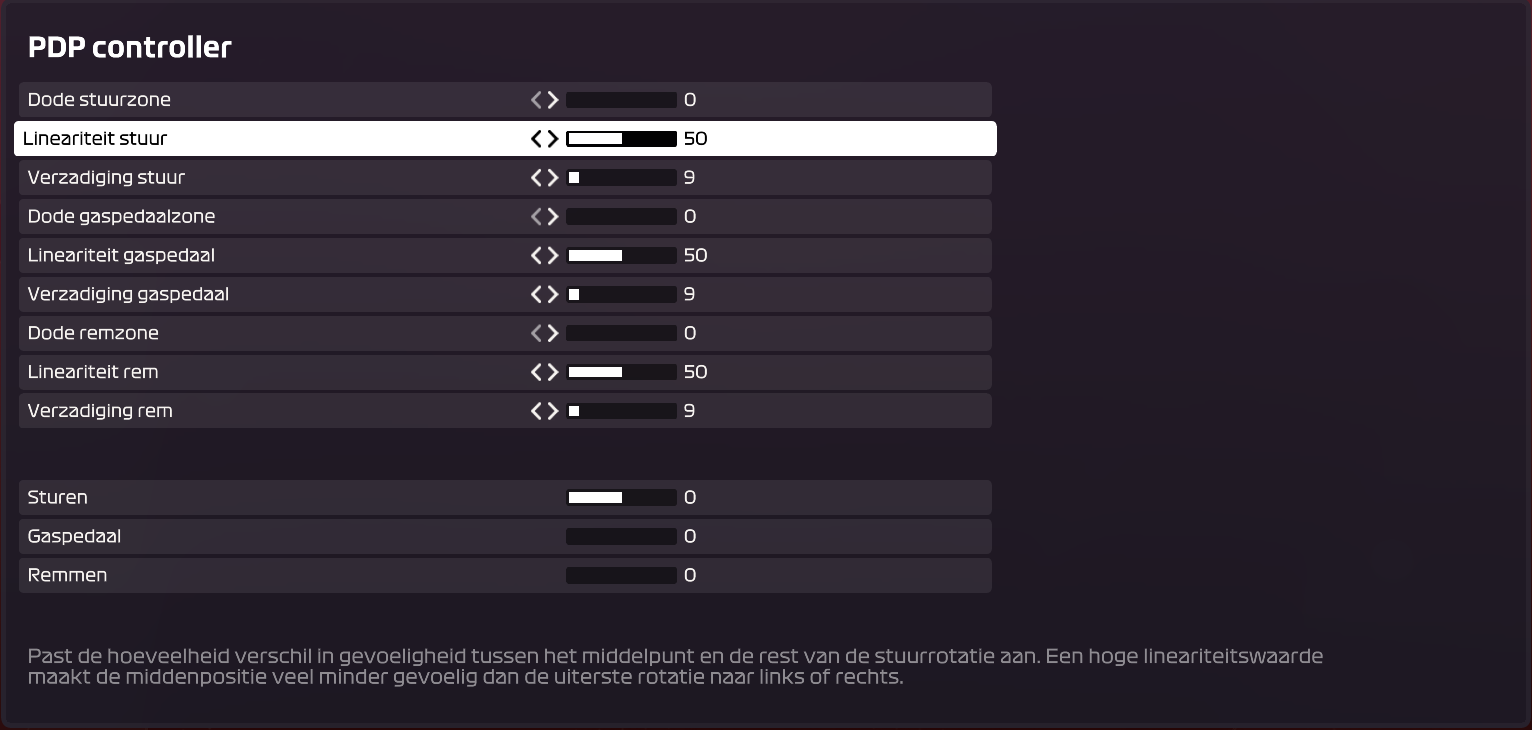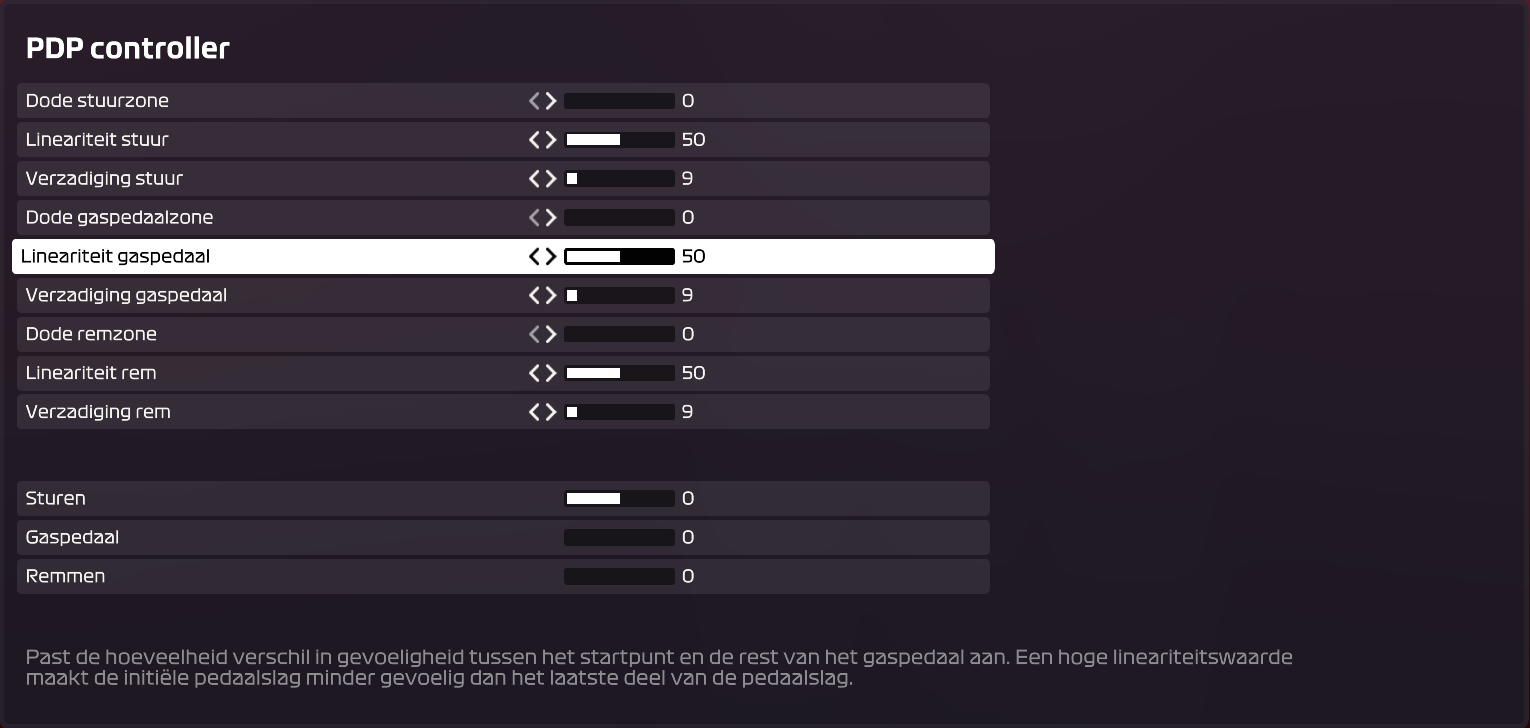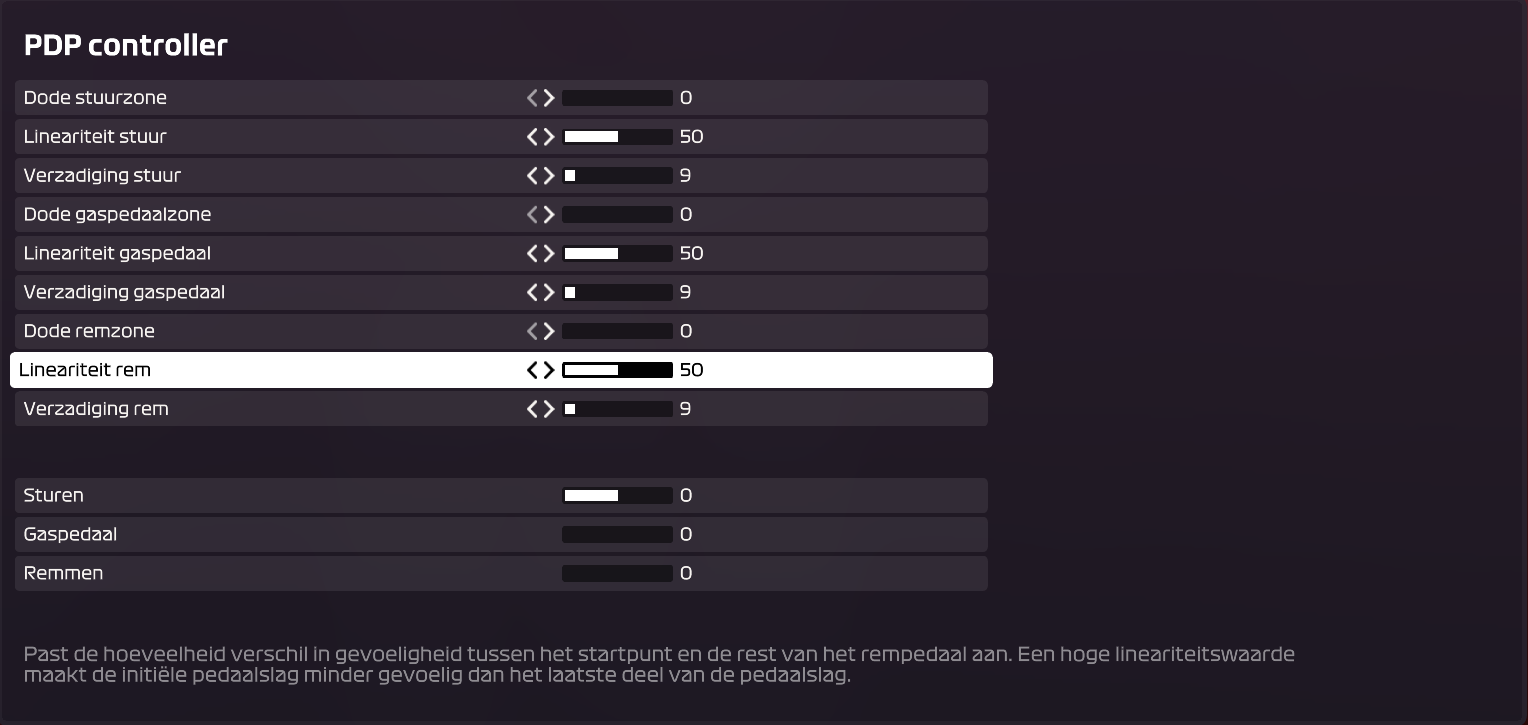 Posted : 06/10/2020 5:23 pm
Ik heb net gereden met mijn oude PDP controller, en ondervind geen problemen tov de originele xbox controller.
Enigste probleem wat ik wel had, is de reden waarom ik een originele gekocht heb, het linker stickie is lam waardoor ik in de F1 geen rechte lijn kan houden en van links naar rechts over de baan ga, maar dat is wat anders natuurlijk.
Posted : 24/10/2020 12:00 pm