Star Wars TV Serie: Star Wars Resistance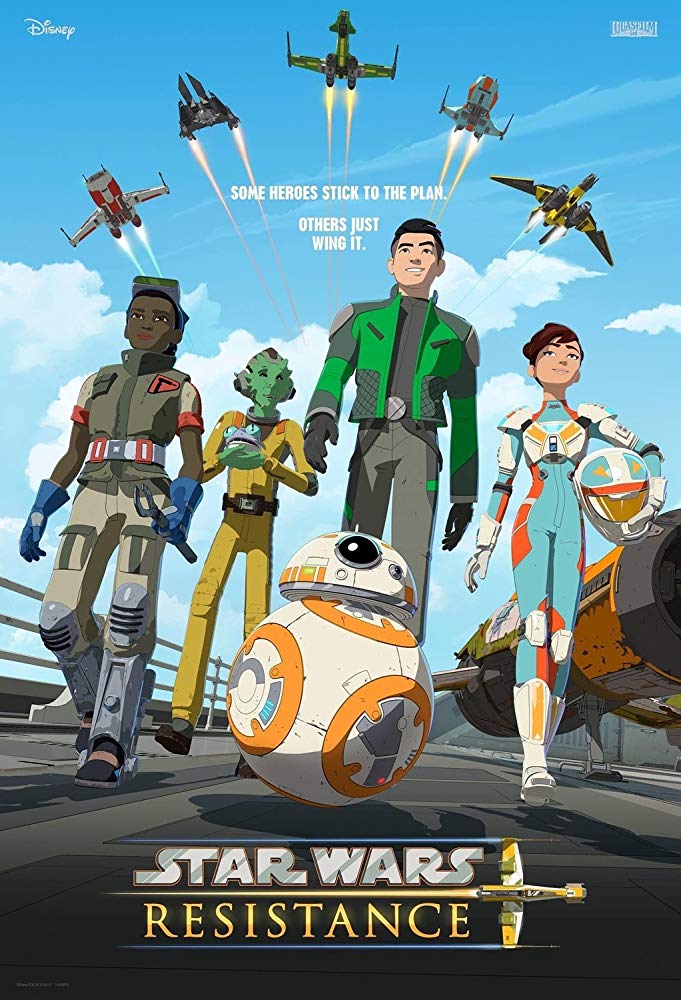 Kijk iemand Star Wars Resistance?
Star Wars Resistance is an American television series inspired by Japanese anime and produced by Lucasfilm Animation. The series premiered on Disney Channel on October 7, 2018, and later debuted on Disney XD in the United States and worldwide.
The series is set decades after the events of Return of the Jedi, in the era of the Star Wars sequel trilogy. It follows Kazuda Xiono, a pilot who is recruited into the Resistance to spy on the growing threat of the First Order.[2] The series begins six months before The Force Awakens and will eventually cross over with it.[3]
Posted : 19/10/2018 10:50 pm
Setting is leuk.
Jammer dat ik Japanese Anime een grote verschrikking vind.
Dus nee, deze kijk ik niet en ga ik ook niet kijken.
Posted : 19/10/2018 11:29 pm
Ok - ik heb namelijk de eerste 3 afleveringen voor de mensen die het willen.
Ik krijg ook de kriebels van dat Japanse Anime - heb nog een trauma aan Black Desert Online ??? ??? maar dit was nog te pruimen O0
Posted : 20/10/2018 1:35 am
Leuke serie hoor! Eerste 4 afleveringen al gezien. 🙂
Posted : 20/10/2018 7:38 pm
Nu ook de 1e 4 afleveringen gezien en het is wel vermakelijk. Verwacht geen diepgaande verhaallijnen of complexe complotten.
Het speelt 6 maanden voor The Force Awakens (Ep. 7) af en zal verder gaan tot voorbij de start van The Force Awakens.
Posted : 22/10/2018 2:50 pm
Eerst maar eens wat downloaden ofzo, heb geen idee waar het uitgezonden werd, maar in het ziekenhuis niks van meegekregen iig
Maar ik ben ook niet kapot van de manga-achtige stijl, dus weet niet of het mij trekt
Posted : 24/10/2018 5:49 pm
Het is niet zo Manga Manga
Als je wilt heb ik de 1e 4 afleveringen voor je.
Posted : 24/10/2018 5:59 pm
Klopt ben ik het ook mee eens met Lantern, de serie is helemaal niet zo manga-stijl, verschilt wel wat van de Rebels serie of The Clone Wars.
Doch het blijft Star Wars.. ;D
Posted : 26/10/2018 10:26 am
Aflevering 5 in de pocket. Ik wacht nu op nr 6
Posted : 15/11/2018 9:43 pm
Heb inmiddels 1 t/m 4 gezien, buiten BB-8 en Poe in het begin, vind ik er nog weinig StarWarsie aan
Posted : 16/11/2018 1:40 pm